July 18, 2019 |
Panther Creek News
Panther Creek 2016 Reserve Pinot Noir | Briscoe Bites Review
Panther Creek 2016 Reserve Pinot Noir – July 18, 2019
NO! The last of my Panther Creek stash! Ah well, it was much appreciated and much loved as this wine was opened for (one of) my anniversary dinners.
About the Wine: The Panther Creek 2016 Reserve Pinot Noir is made from 100% Pinot Noir grapes harvested from the winery's estate vineyards in Oregon's Willamette Valley.
14.1% ABV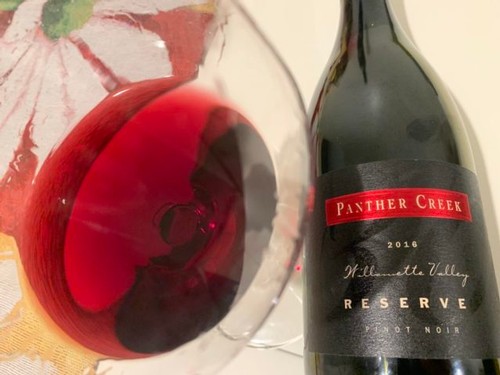 Flavor Profile: Scents upon opening the bottle are of dark muddy forest floor, hint chocolate, prunes and star anise. The wine is pure cranberry on the pour. In the glass it's darker, more maroon (scabby). And though it's darker at the center, it's still penetrable from the center on out.
Initial aroma is of brighter red fruits: pomegranate, wild strawberry, raspberry. There's still that slight hint of anise that lingers in the background. The acidity is not shy. Swirl and release floral aromas of pink roses, freesias and some earthy aromas like ground/dried coriander.
The palate soft like a downy pillow. That acidity is definitely present, but present with a purpose, not at all disturbing the lushness and lightness of the body of the wine. Tannins are low, more pronounced on the finish and even then quite quite mild, with just a suggestion of texture around the front perimeter of the tongue. Dominant flavors are of cranberry, pomegranate, wild strawberry, rose petal perfume, oak wood bramble, and just the slightest hint of that ground/dried coriander lingering in the background and aftertaste.
Food Pairing: Moroccan-spiced salmon, quinoa, roasted beetroot, caramelized onion, and a sprinkling of goat's cheese.
More Info: I received the Panther Creek 2016 Reserve Pinot Noir as a gift. (Cheers Madelaine!) Retail: $50. For more information about Panther Creek, their wines, and to purchase wines directly, please visit the Panther Creek Cellars website.