March 23, 2020 |
Panther Creek News
BriscoeBites.com Reviews Panther Creek Cellars 2017 Maverick Vineyard Pinot Noir
My latest shipment from Panther Creek Cellars came with single-vineyard Pinot Noir from each of the winery's estate vineyards. Super fun. I had the chance to compare the vineyards last year, so was so pleased to get to experience the 2017 release this year. The new kid on the block: Maverick Vineyard. In fact, this vineyard, located in the Yamhill-Carlton AVA of Oregon was only planted seven years ago, in 2013. For those of you unfamiliar with a vine's growth cycle, typically the first three years of a vine's life does not produce any fruit (or at least not enough or enough quality fruit to make wine). So, I imagine, 2017 was really the first harvest that yielded enough fruit to make enough sellable wine. And even then, only 150 cases were produced. So, how did the new kid fare?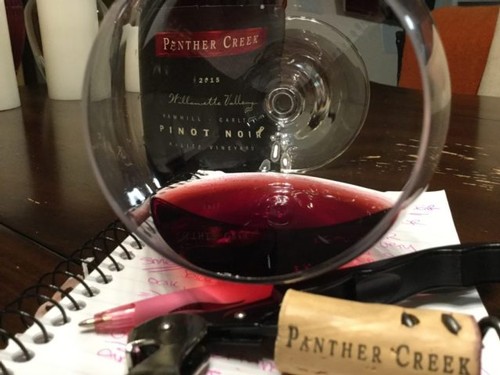 About the Wine: Panther Creek Cellars 2017 Maverick Vineyard Pinot Noir, Dijon clone (943)
13.8% ABV
150 cases produced
Flavor Profile:
Appearance: Breaking the rules here and saying that this Pinot Noir is somewhere in between a pale and medium ruby. While you can clearly see through the wine at its very core, there's a depth of ruby red that I just can't justify as 100 percent pale.
Aroma: Initial aromas are youthful with medium (+) intensity. Aromas include red cherry, anise, blackberry, cedar, eucalyptus, smoke or toast, bramble, and just a hint of chocolate or coffee (mocha?)
Palate: The palate is dry with high acidity, medium level of alcohol, medium (-) tannins, and a medium (-) overall body. Flavor is medium (+) in intensity and includes those aromas listed above, but with more intense anise notes and more intense black fruit than red fruits than initial expected based on the nose. The cherry presents as black cherry, and the blackberry and bramble notes come forward more assertively. As does that chocolate/coffee/mocha note that, together with the black fruits almost has a kind of cola quality to it.
The finish is long, with the black fruits, cola, and mocha lingering for an exceptional amount of time.