April 5, 2017 |
News |
Panther Creek News
Panther Creek Featured in "Oregon's Pinot Noir Legacy" | Great Northwest Wine
Great Northwest Wine: Oregon's Pinot Noir legacy
Rolling vineyards of Pinot Noir grapes cover much of the northern Willamette Valley, the heart of Oregon wine country.Andy Perdue Great Northwest Wine
BY ANDY PERDUE AND ERIC DEGERMAN
Great Northwest Wine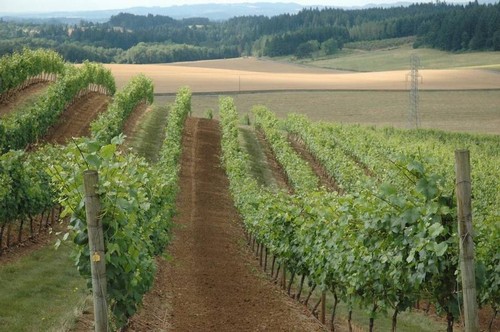 Oregon's modern-day wine industry truly began to bear fruit a decade after the first Pinot Noir was planted in southern Oregon in 1961, expanding into the Willamette Valley in the 1970s.
Today, Pinot Noir is far and away the dominant grape in the country's fourth-largest wine-producing state (following California, Washington and New York). In fact, Pinot Noir makes up an astonishing 62 percent of the state's wine production, with the focus on the northern Willamette Valley, home to six distinctive federally recognized viticultural areas.
Here are several delicious examples or Oregon Pinot Noir we have recently tasted. Ask for them at your favorite wine merchant or contact the wineries directly.
Winter's Hill 2014 Single Block Series Block 1 Estate Pinot Noir, Dundee Hills, $49: The Gladhart family's young Single Block Series from the remarkable 2014 vintage features four two-barrel lots of stunning juice, and Block 1 showcases Pommard on its own roots that stems from their first 1990 planting. Its easterly aspect makes it the final block to be harvested. Lightly oaked, it offers blueberry and cola aromas that lead to sweet cherry and cranberry-rhubarb flavors backed by juicy red currant. (14.2 percent alcohol)
Le Cadeau Vineyard 2015 Pinot Noir, Oregon, $38: Tom Mortimer's vines on the southern edge of Parrett Mountain have entered their third decade of life, and this bottling represents a blend through the 16-acre vineyard. The nose shows the ripeness of the historically hot 2015 vintage, offering black cherry, cola and Graham cracker notes with forest floor and toasty edges. Dark tones of blueberry and black raspberry flavors pick up a scrape of vanilla bean, leading out to tangy notes of cranberry and pomegranate. (14.2 percent alcohol)
Panther Creek Cellars 2014 Winemaker's Cuvee Pinot Noir, $30: The flagship Pinot Noir bottling by Tony Rynders for Oregon's rejuvenated Panther Creek brand encompasses four growing regions and six vineyards, including the large Wildewood and Loubejac plantings influenced by the Van Duzer Corridor near Monmouth. There's a slightly hedonistic approach to this darker Pinot Noir, starting with aromas of black cherry and blackberry with bittersweet chocolate and mint. It's more reddish on the palate with President plum and Craisin flavors as pomegranate acidity easily overtakes the minimal tannins, leading to a rewarding finish of boysenberry. (14.1 percent alcohol)
Aubichon Cellars 2015 Reserve Pinot Noir, Willamette Valley, $50: The latest releases of Pinot Noir by Jim Sanders under this second label for Willamette Valley producer Le Cadeau Vineyard continue the trend we are now accustomed to in terms of superb fruit and suave tannins. In this case, dark purple tones of blueberry and pomegranate include whiffs of cola, baking spice and graphite. There's a match on the palate with a juicy profile and well-managed tannins that allow for a long trail of black cherry and plum sauce. (14.5 percent alcohol)
Zena Crown Vineyard 2013 Conifer Pinot Noir, Eola-Amity Hills, $75: A trio of blocks harvested across Zena East and Zena West between Sept. 28 and Oct. 4 gave Shane Moore the components for an earthy yet fruity expression for Jackson Family Wines' 7-year-old plantings west of Oregon's capital city. A barrel program that's a bit lighter than either of his 2013 Slope or 2013 Sum bottlings gives this a profile of strawberry syrup and cherry jam with forest floor and saddle leather notes, backed by lightly toasted marshmallow, orange zest, suave tannins and pink raspberry acidity. (13 percent alcohol)
Eric Degerman and Andy Perdue run Great Northwest Wine, an award-winning media company. Learn more about wine at www.greatnorthwestwine.com
Read more here: http://www.tri-cityherald.com/living/food-drink/wine/article142688854.html#storylink=cpy