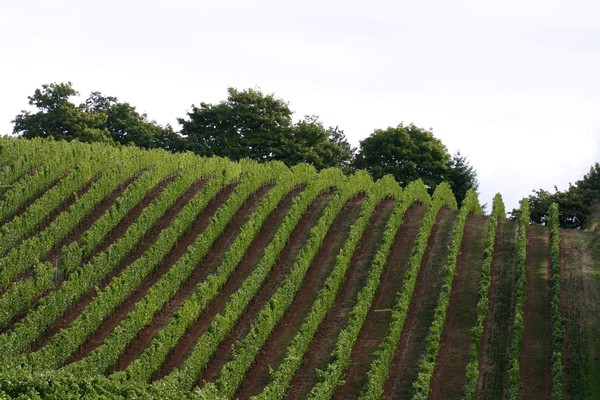 Facts About Willamette Valley Pinot Noir
Pioneers of Pinot: How the Willamette Valley Transitioned From Hazelnuts to Wine Grapes

The Science of Soil: Why the Soil Makes Willamette Valley Wines So Unique

A Difference in Climates Results in a Difference in Flavors: Oregon Pinot Noir vs Franch Pinot Noir
Only 40 years ago, if you were looking for luxury wine, especially of the Pinot Noir varietal, the only place to look in the United States was California's Napa Valley. Otherwise, consumers could only turn to France or Italy to find high-end options. Thanks to a few pioneers that knew potential when they saw it, winemakers began harvesting across Oregon and by the 1980s turned this Pacific Northwest region into the centerpiece for Pinot Noir. Today there are close to 800 Oregon wineries, and the Willamette Valley's vineyards hold the top prize for quality and are responsible for 74% of all Oregon wine production. If Willamette Valley wines are the Destiny's Child of Oregon's wine selections, then Willamette Valley Pinot Noir is our Beyoncé.
Pioneers of Pinot
One of Oregon Wine Country's earliest pioneers was David Lett, winemaker and founder of Eyrie Vineyards in Willamette Valley. Like many of his contemporaries, Lett studied viticulture at the University of California, Davis, to learn about the art of winemaking and operating a successful vineyard. In 1965, against the advice of his professors, David Lett purchased land in the Dundee area of Willamette Valley, about 45 minutes south of Portland, where he transported 3,000 vines from California to be planted in Dundee. At this time the area was mainly known for growing hazelnuts, and it was believed that the climate was too cold to produce quality wine. Lett saw the potential for Willamette Valley wineries after traveling to France and noticing the climate in Burgundy, the origin of Pinot Noir, had quite a few similarities to Oregon. He believed, if Pinot Noir could thrive in Burgundy, why not in the Willamette Valley?
A decade later, Lett's investment paid off when Eyrie Vineyard's label, Pinot Noir South Block 1975, finished third in an international tasting of hundreds of wines by French food & wine magazine, Gault-Millau, then went on to take second place at the Wine Olympics in Burgundy in 1980, instantly putting Oregon Pinot Noir on the national map. In 1987 Robert Drouhin, of Burgundy's legendary wine producer, Maison Joseph Drouhin, purchased land in Dundee Hills.
Today Oregon is the fourth-largest wine producer in the United States, after California, Washington, and New York. From the 3,000 vines Lett planted in 1965, Pinot Noir now covers more than 10,000 acres in Oregon, producing more than 20,000 tons in 2007, according to the Oregon Wine Board. Before his untimely death in 2008, David Lett, who had earned the nickname "Papa Pinot," was focusing his efforts towards organizing his fellow vintners against overly aggressive development on potential vineyard land.
Not far behind David Lett was Ken Wright, another important pioneer in the development of the Willamette Valley as the go-to region for Pinot Noir in the United States. Wright also studied at UC-Davis before he spent eight years winemaking at various vineyards in Northern California, including Talbott Vineyards near Monterey Bay.
After several trips to Oregon during the late 70s to early 80s, Wright believed the climate was the perfect location to cultivate the country's first single-vineyard Pinot Noir and left Talbott Vineyards to move to McMinnville where he founded Panther Creek Cellars in 1986. From there, Wright went on to expand the region's wine production with 6 new landmark Willamette Valley AVAs, including Eola-Amity Hills and Yamhill-Carlton District, and has also opened a new winery in 1994 under his own name, Ken Wright Cellars. Today Ken bottles single-vineyard Pinot Noir from 13 vineyard sites in the Northern Willamette Valley.
The Science of Soil
What might be the most unique fact about today's Oregon Wine Country is the steady migration of prominent winemakers from the Burgundy region to the Willamette Valley. Vintners that grew up on Pinot Noir are moving to where the Pinot Noir industry is growing in popularity and acclaim. Many of these modern European winemakers, such as Herb Quady and Isabelle Meunier, would consider their approach to Pinot Noir to be minimalist, and much like David Lett and Ken Wright before them, it is the belief in Oregon that the grapes should speak for themselves. Oregon's climate has proved year after year it can produce great wine, and today's winemakers have gained confidence from their predecessors that Oregon Pinot Noir has complexities all on its own, so the best method is to keep it simple and trust the land.
Take a quick drive up the U.S. Interstate 5 between Eugene and Portland, or enjoy a relaxing boat ride down the Willamette River, and you'll see just how lush and beautiful the climate of this Northern Oregon region really is. The Willamette Valley sits between the Pacific Coast and the Cascade mountain ranges, with more than 17 miles of vineyard spread across the land, planting up to 1,300 acres of grapes. In 2016, Wine Enthusiast Magazine named Willamette Valley the wine region of the year.
When it comes to harvesting Pinot Noir that can compete next to grapes grown in Burgundy, France, any experienced winemaker will tell you the key to success is in the soil. This is why Willamette Valley AVAs holds the record for single-vineyard Pinot Noirs. A single vineyard bottle wine means the wine was grown, harvested, fermented, and bottled all within a single vineyard with one type of soil and absolutely no blending of any kind. If you taste multiple wines from the Willamette Valley where all factors of the winemaking process are identical, but the soil is different, you will notice a distinct difference in the flavor and aroma of each Pinot Noir. This method of wine production has grown in popularity in the Pacific Northwest, but few specialize in this practice. Panther Creek Cellars is one such winery that has mastered single vineyard designates and their line of single-vineyard wines continue to receive high praise from wine aficionados around the world.
There are three types of soil throughout Oregon's coast that fall within Willamette Valley vineyards. The first soil is volcanic, with Jory being the area's most primary type of volcanic dirt, which is high in clay content, iron, nutrients, and has a reddish color to its soil. Smash some Jory dirt between your fingers and it will stick together in a nice clay-like formation. That consistency creates a minerality to the Pinot Noirs grown in the volcanic soils, giving its finish a dusty-earthiness that brings out flavors of bright cherry and red fruit. Volcanic soils retain water very well, which is how they keep the climate cool enough to grow Pinot Noir. The skin on a Pinot Noir grape is very thin, and in the tight clusters that the grapes grow in, warmer climates often cause a Pinot grape's skin to break and rot.
Sedimentary soils have, literally, a deep-rooted history in the expansion of Pinot Noir. Western Oregon was once the floor of an 8,000-foot-deep sea. 15 million years ago, the Pacific and North American tectonic plates collided, lifting up the ocean floor surrounding the area and creating the Coast Range and the Cascade Mountains. Willakenzie soil, the most common sedimentary soil in Willamette Valley, is composed of the marine sediment of that former seafloor. As the collisions continued, the hills of the Willamette Valley were formed, with the top layer of volcanic soil exposed in some places and the lower layer of sedimentary soil revealed in others. In some areas, sedimentary soil runs as deep as half a mile. When soils like these run so deep, the longer the vines are planted, the better. Pinot Noirs that take a long time to grow into the earth looking for water and minerals create a profile that has a dark color, and flavors of black fruit, cola, coffee, and chocolate.
Loess, or windblown silty loam, is the shallowest, youngest, and least common of Oregon's three main soil types. However, loess might be the tie between the flavors of the lightly sweet volcanic Pinots and the dry and dusty sedimentary Pinots. Loess soil makes for a brighter red fruit flavor, and has a bit of white pepper to its finish.
When David Lett first started the wine movement to Oregon 40 years ago, comparing a Pinot Noir from a Willamette Valley vineyard to a Pinot Noir from Burgundy, France, was regarded as a high compliment. Today, even with the steady migration of French winemakers to Oregon wine country, a comment like that no longer evokes the same esteem it once did. Though the two regions are known for their cooler climates that make the soil hospitable for Pinot grapes, the remaining facts about the two lands have many differences.
A Difference in Climates Results in a Difference in Flavors
Burgundy's climate is continental, meaning the winters are very cold and the summers are very hot. Rain falls year-round and the area can expect snow every year. On the other side, Oregon is a maritime region. The individual seasons are rarely severe, with rain falling primarily from late fall to late spring. The different conditions in the region's natural climate make for different soils as well.
The Willamette Valley wine region has three distinct types of soil that all stem from Oregon's early history below sea level, which later evolved from the actions of plate tectonics and volcanic lava. Burgundy's soils on the other hand mainly consist of carbonate-based marine sediments featuring limestone mixed with clay, gravel, and sand. The land in Burgundy is a result of the repeated incursions of shallow seas over tens of millions of years during the Jurassic period. What these differences mean for the taste and flavor of an Oregon Pinot Noir versus a Burgundy Pinot is that Oregon Pinot's have profiles that include more fresh fruit than a French Pinot, which compliments more earthy flavors.
Today, Willamette Valley Pinot Noir continues to best Burgundy in wine taste tests year after year. At the TEXSOM International Wine Awards, between 2018 and 2019, award-winning Oregon wines increased by 13%, with Oregon winning 10 rare gold medals in 2019, and 14 medals total going to wines from Willamette Valley AVAs.
Whether it's the delicious wine or the view that brings you to Oregon Wine Country, it would be a missed opportunity not to visit Willamette Valley and give yourself a taste test. The region's unique landscape and climate have produced some truly unique wines such as our Willamette Valley Chardonnay and Winemaker's Cuvee. The next time you find yourself in the Pacific Northwest, try a glass of wine from the Willamette Valley and let the wine tell you which one is your favorite.