2017 Pinot Noir (Kalita Vineyard) by Panther Creek
NOVEMBER 19, 2021 BY SNOB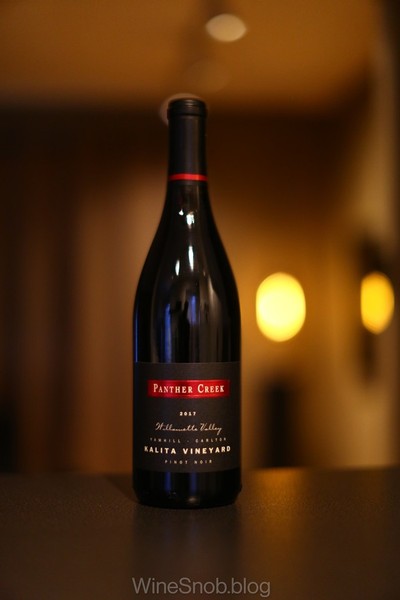 Tonight's Occasion: 2017 Pinot Noir (Kalita Vineyard – Willamette Valley, OR) by Panther Creek Cellars, Woodinville, WA
Dark intense ruby color. Subtle aromatic nose with bright cherries, raspberries and a hint of sweet cola. An underlying wet mineral leather permeates the nose. This is its sense of place – Willamette Valley.
A bright body greets with a touch of acidity in the form of a slightly sweet citrus reminiscent of a Meyer Lemon. This is quickly counterbalanced with a slightly viscous weighted body. Crisp tannins add great structure midway through as crisp caramel reminiscent of neutral French oak and red cherries fill the palate. A taught mineral leather carries over. This marks the transition to a finish characterized by a firm, dry tannic grip over a wet mineral leather.
This is a well built Pinot with a touch of personality. This small understated boutique winemaker was one of the highlights of my visit to Woodinville. Their small batch production artisan wines are just the type of wines I obsess over and constantly seek out, off the beaten path.
Read more Panther Creek Cellars on WineSnob.
Click here to view 2017 Kalita Vineyard Pinot Noir in our wine store.