November 16, 2017 |
Panther Creek News
Panther Creek Lazy River Pinot | Wines Northwest Chuck Hill
Thanksgiving is a great opportunity to try wine pairings with a wide variety of foods. I try to include an off dry Germanic white like Gewürztraminer or Riesling, a dry white like Sauvignon Blanc or Pinot Gris, and a choice of a red – either Pinot Noir or Cabernet Sauvignon. A sparkling wine is always festive as an aperitif.
All of the wines I am suggesting are currently available. The more expensive selections might need a little looking – online or in person – and the artsy gift box from Argyle comes from the winery itself.
If you are out on the Thanksgiving wine-touring trail (Friday, Saturday and Sunday), enjoy the festivities and bring along a designated driver! These celebrations are a wine country tradition in both Washington and Oregon. Cheers!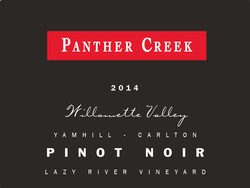 Panther Creek
2014 Pinot Noir, Lazy River Vineyard
$45.00
This wine placed first in a flight of premium Pinot Noirs during my springtime Pinot and Salmon tastings. I heartily recommend it for the red wine lovers at your Thanksgiving table for its rich and complex flavor and character. One caveat: aerate the wine by pouring into a decanter for service, it will open up and give you the full measure of its very high quality.