September 7, 2018 |
Panther Creek News
Panther Creek 2015 Kalita Vineyard Pinot Noir | Briscoe Bites Review
BRISCOE BITESBooze, Baking, Big Bites and More!
03 SEP 2018
Panther Creek Cellars 2015 Kalita Vineyard Pinot Noir
categories: Booze, Wine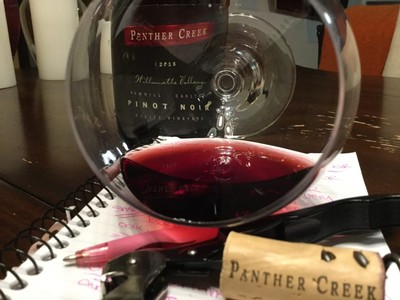 I came across Panther Creek when working on an article about their new Woodinville, Washington tasting room. Indeed, the Oregon-based winery with their Willamette fruit felt the need to spread the Pinot love to the cool kids in Washington who, basically, have none. Unable to visit Oregon or Washington at the moment, the Panther Creek team was kind enough to send me a few samples. Last week I featured their estate Pinot Gris — a beautiful example of how the grape variety is making major headway in the Pacific Northwest. But let's face it, when making, tasting, or talking wine from the Willamette, it's all about the Pinot Noir.
You can read my full article, Oregon Wine, Washington Tasting Room: Panther Creek boosts business, bringing Willamette Valley Wine to Woodinville, Wash.
About the Wine: The Panther Creek Cellars 2015 Kalita Vineyard Pinot Noir is made from 100% Pinot Noir grapes harvested from the Kalita Vineyard located in the Yamhill Carlton AVA of Oregon's Willamette Valley. The wine was aged in 100% French oak barrels (25% new) for 8 months.
14.5% ABV
Flavor Profile: Pop the cork of the Panther Creek Cellars 2015 Kalita Vineyard Pinot Noir and breathe in deep aromas of blackberries, figs, and forest floor. This Pinot Noir presents a rusty maroon on the pour, settling into the glass with a perfectly rouge core, that fades out to a watery-brown, that fades out even further toward a light but burnt orange.
Initial aromas are of black cherry, fig, chocolate, oak, and a certain acidity. Swirl and reveal more chocolate (milk chocolate), more florals (dark roses), and a softness to those cherries. Pull the nose away and find a very light perfume-like quality that is just utterly natural — like flowers after a gentle, warm rain.
The palate of the Panther Creek Cellars 2015 Kalita Vineyard Pinot Noir is as soft as a clean glass of water. The acid is subtle, with just a slight increase about three-quarters of the way, giving way to a tiny tingle just on the top of the tongue at the very finish. The tannins are almost negligible until the after taste when you find there is a light coat of texture just at the very tip of the tongue and riding only about half way through the body of the tongue.
Food Pairing: I paired the Panther Creek Cellars 2015 Kalita Vineyard Pinot Noir with a pan seared salmon filet alongside a strawberry salad. What I loved most about this meal was the salmon, with its innate silky texture, further softened the mouthfeel of the wine to an absolute sexy level.
And what I have to say I love about the wine itself is that it is so delicate in its flavor profile — though the nose is beautifully bountiful — that it becomes a chameleon in the food and wine pairing department. As in, this wine can go with anything, so I say pair it with something that has equally delicate flavors so you can enjoy all the nuances this Pinot Noir has to offer.
More Info: I received the Panther Creek Cellars 2015 Kalita Vineyard Pinot Noir as a gift. (Cheers Madelaine!) Retail: $25. For more information about Panther Creek, their wines, and to purchase wines directly, please visit the Panther Creek Cellars website.
BriscoeBites officially accepts samples as well as conducts on-site and online interviews. Want to have your wine, winery or tasting room featured? Please visit the Sample Policy page where you can contact me directly. Cheers!