November 16, 2017 |
Panther Creek News
Panther Creek, Fox Restaurant Concepts Collaboration Pinot Noir | WineIndustryAdvisor
Renowned Winemaker Tony Rynders Collaborates with Sommelier Regan Jasper to Craft the Group's 11th Proprietary Wine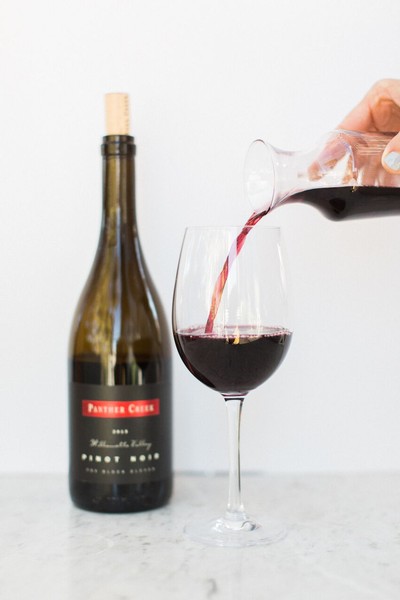 Phoenix, Arizona, November 16, 2017 – Fox Restaurant Concepts, long recognized for the group's commitment to innovation and its laser-focus on the guest experience, continues to expand its offerings. This year, the group launched its 11th proprietary Pinot Noir, Fox Block Eleven Panther Creek Cellars, a collaboration between the group's sommelier and VP Beverage Director Regan Jasper and Panther Creek's own Oregon winemaker Tony Rynders.
When the opportunity arose for Jasper to blend the group's next proprietary Pinot with Panther Creek's Tony Rynders, he jumped at the chance. "I love the style of the Willamette," Jasper notes. "It's fruit-forward and earthy. Working with Tony up in Dundee was a lot of fun; great Pinot Noir is coming out of there right now."
Fox Block Eleven Panther Creek Cellars is available by the glass at 55 locations across twelve restaurant brands nationwide, including North Italia, Culinary Dropout, The Henry, Doughbird, True Food Kitchen, The Arrogant Butcher, Blanco Tacos & Tequila, Wildflower, Zinburger, Little Cleo's, The Greene House, and Olive & Ivy.
"Our restaurants are the only place you can find this blend of Panther Creek wine," says Jasper. "Creating one of a kind wines with acclaimed winemakers from different regions ensures we can continually offer our guests something special and totally personalized."
ABOUT FOX RESTAURANT CONCEPTS
Fox Restaurant Concepts is a growing restaurant group encompassing 14 unique concepts spanning 6 states with more than 4,000 employees. Each restaurant strives to provide guests with a remarkable dining experience that will leave a lasting impression. Varying from contemporary upscale to fast casual and walk-up retail, Fox Restaurant Concepts is dedicated to creating flavorful, fresh and innovative cuisine, and offers gracious service in stylish and comfortable settings. For more information, visit www.foxrc.com.
ABOUT PANTHER CREEK CELLARS
Located in the heart of the Willamette Valley, Panther Creek Cellars has been producing signature Pinot Noir, Pinot Gris and Chardonnay wines since 1986. Founded by the renowned winemaker Ken Wright, Panther Creek has been recognized for its signature blends as well as single vineyard designate wines. The winery has been credited by Robert Parker as "producing some of Oregon's most concentrated and age worthy wines" From 2013 onward, the Panther Creek wines have been made by the highly acclaimed Tony Rynders, who continues to discover new vineyards while producing wines expressing purity of fruit. Complexity, and place of origin.
Panther Creek is a portfolio company of Bacchus Capital Management.
For more information, visit www.panthercreekcellars.com