May 19, 2020 |
Panther Creek News
Panther Creek Cellars 2017 Carter Vineyard Pinot Noir | Briscoe Bites Review
This is the last in my line-up of single-vineyard Pinot Noir tastings from Panther Creek. (Although I do have a bonus post coming up…). They were all beautiful in their own right, offering a surprising amount of diversity in each bottle. From the infant-youthful Maverick, to the regal De Ponte, and the easy drinking Lazy River.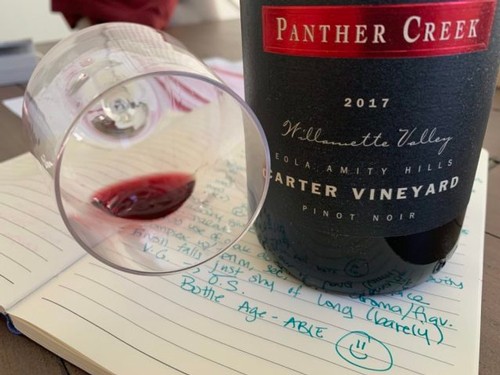 So how did this Carter Vineyard stack up? I loved this wine—it filled me up body and soul. Well balanced in flavor and texture, and the perfect pairing to our salmon salad. I know I shouldn't pick favorites, but I think this Pinot Noir (in the line of Panther Creek single-vineyards) comes second only the the Kalita Vineyard. Read on…
About the Wine: Panther Creek Cellars 2017 Carter Vineyard Pinot Noir
100 cases produced
14.1% ABV
Flavor Profile:
Appearance: pale ruby
Aroma: Pronounced, youthful aromas of chocolate, ripe strawberries, ripe red plum, oak wood, vanilla, nutmeg, eucalyptus, tarragon, ripe black cherries, and just the faintest hint of wet leaves and mushroom.