September 6, 2018 |
Panther Creek News
"A Wine Walk Through Woodinville: Panther Creek Cellars" | King5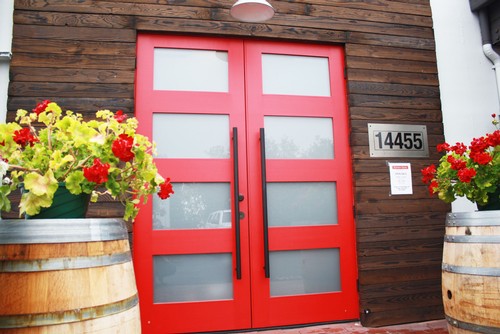 EVENING
A wine walk through Woodinville: Panther Creek Cellars
Panther Creek Cellars in Woodinville brings Oregon Pinot Noir straight to your Washington State taste buds.
Author: Courtney Swinger
Published: 11:02 AM PDT August 13, 2018
Updated: 12:27 PM PDT September 6, 2018
Panther Creek Cellars in Woodinville brings Oregon Pinot Noir straight to your Washington State taste buds. It also happens to be the newest winery in Woodinville.
Washington state's climate makes growing grapes for Pinot Noir challenging, and quite frankly, impossible. But in Oregon, winemaker Tony Rynders has found the perfect combination of weather and fruit.
You open the giant red doors to find yourself in a Pinot Noir-soaked heaven. Panther Creek offers eightdifferent Pinot Noirs to try in their tasting room, almost all of which have been rated 90 points or above.
Their Woodinville tasting room opened in May of 2018.
Tasting Room Manager and Assistant General Manager Madelaine Morford has been in the wine industry for 13 years and prides herself on bringing customers the wine knowledge they crave.
"We are able to bring Pinot Noir to Washington and people really want that. You'll notice when you go tasting at a lot of other wineries Pinot Noir is missing from their line-up," said Morford. "I think it's neat that we can showcase what makes us special."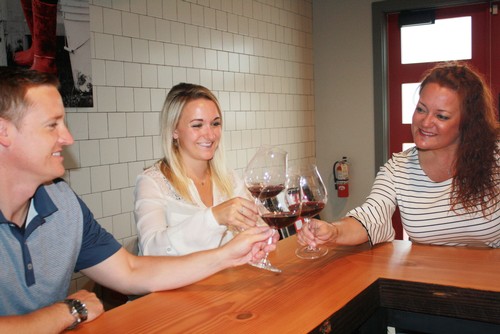 For Washingtonians, you can only find Panther Creek wines in their tasting room and online.
"I really like Woodinville because of how casual it is. It's very humble, it's more about wineries genuinely wanting to share their wine with people," said Morford.
Previous
All of Panther Creek's wines are very approachable in style. They tend to use less oak treatment than other wineries which creates a lighter finish to the wine.
"People who are not frequent wine drinkers tend to like Pinot Noir more than other reds because it is a lighter-bodied red and easier to drink than say a Cabernet or Merlot."
Tony Rynders is Panther Creek Cellars' veteran winemaker. He is known around Oregon as 'the guy' for Pinot Noir. He's been making Pinot Noir for about 20 years.
"When I look for people to join our tasting room staff, I look for people who know how to take care of people. I think that's the most important part of what we do here."
Morford believes that 90% of people who come in to taste aren't necessarily concerned with learning about the technical terms of wine, but instead, want to drink good wine and have a good time.
The 2016 Willamette Valley Pinot Gris is Panther Creek's most popular wine at the moment because of its lightness and freshness.
"Usually, I ask what kind of wines they normally drink at home and depending on their answer I make suggestions. I also ask what other types of alcohol they like. We get a lot of husbands in here with their wives who are beer drinkers, so I pour them our Pinot Gris and Cuvee to start and after that they're usually on board."
Morford says a common myth within the wine industry is a lot of people think wine is scary and only for wealthy people, which she assures is completely untrue.
"I really like Woodinville because of how casual it is. It's very humble. It's more about wineries genuinely wanting to share their wine with people."
Evening is your guide to Seattle and the Pacific Northwest. Watch it weeknights at 7:30 on KING-TV Ch. 5or streaming live on KING5.com. Connect with Evening via Facebook, Twitter, Instagram or Email.
© 2018 KING